NRCC Fiddle, Banjo and Dance Club Jamboree to be held Oct. 9
Sep 22 2021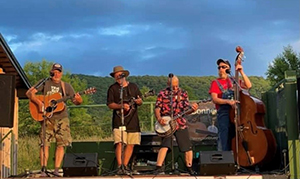 The music of Blue Connection will be featured during New River Community College's Fiddle, Banjo and Dance Club Jamboree on Sat., Oct. 9, 2021. Music will begin at 6 p.m. in 117 Edwards Hall at NRCC in Dublin. NRCC requires all individuals to wear masks indoors, and social distancing protocols will be observed.
Blue Connection is a hard driving traditional style bluegrass band that was formed in 2013. They play traditional standard bluegrass and country songs with some contemporary country and rock as well. The band includes Matt Spence, from Catawba, on bass, lead and harmony vocals; Kenny Hamblin, from Catawba, on banjo, lead and harmony vocals; Paul Boone, from Hardy, on mandolin, lead and harmony vocals; and John Hamilton, from Eagle Rock, on guitar, lead and harmony vocals. They will play two sets at the jamboree.
Corporate sponsors of the jamborees include Anderson Audiology, Dublin; August Jewelers & Boutique, Inc., Radford; Castle Rock Insurance Agency, Pearisburg; Estes Auto & Truck Parts Inc., Pilot; First Community Bank, Pulaski; Food City; Gregory Seeding and Landscaping Company, Pulaski; Martin's Pharmacy, Pulaski; Pepsi Cola Bottling Co., Dublin; Pulaski Patriot, Pulaski; SERVPRO, Christiansburg; and Southern Furniture Warehouse, Radford.
The doors open at 5 p.m. for the show. Admission is free; however, donations will be accepted to help offset the travel expenses for the musicians. The jamborees are typically held the second Saturday of each month through April at NRCC, a Crooked Road affiliated venue.
For more information about the NRCC Fiddle, Banjo, and Dance Club, please contact Tim Jones at (540) 674-3625 or visit www.nr.edu/fiddle.