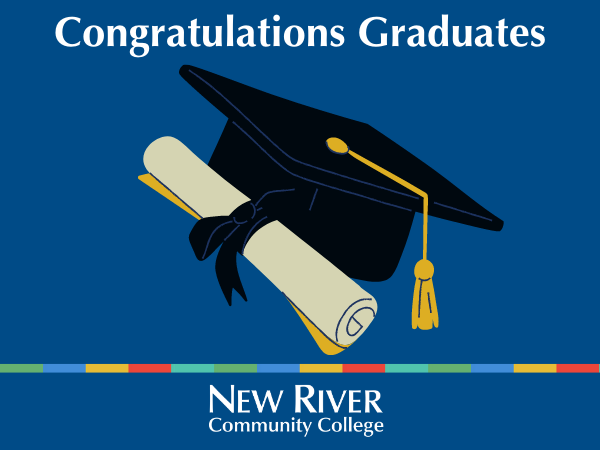 New River Community College looks forward to celebrating graduates from the Class of 2020 and the Class of 2021.
Graduation ceremonies will follow the guidance issued by the Office of the Governor of Virginia. All details related to the ceremonies are subject to change based on directives from the Governor's Office, Virginia Department of Health, and the Virginia Community College System.
Graduation Ceremonies
Three ceremonies will be held to honor graduates within their specific program areas, and to ensure all aspects of the Governor's guidance are followed.
Wednesday, May 12, at 6:00 p.m.: Associate Degree Nursing (spring 2020 and spring 2021 graduates), and Practical Nursing (summer 2020 graduates)
*Note: A ceremony for summer 2021 Practical Nursing graduates will be held later.
Friday, May 14, at 5:00 p.m.: Division of Arts and Sciences (fall 2019-summer 2021 graduates)
Friday, May 14, at 7:30 p.m.: Division of Business and Technologies (fall 2019-summer 2021 graduates)
Graduates and faculty only will be permitted to attend their designated ceremony. Masks and physical distancing will be required by all attendees.
All ceremonies will have a designated point of entry and exit. Graduates will check-in before entering the ceremony.
All ceremonies will be livestreamed for family, friends, and others to view off-campus. A link for the livestreamed events will be available on the New River Community College website.
Graduate RSVP
Graduates are required to confirm their attendance no later than Friday, April 30, 2021 using the Graduate RSVP Form (The Graduate RSVP Form is now closed).
Graduates will receive further details and instructions once their confirmation is received. Additionally, graduate information sessions, via Zoom, will be scheduled in early May for confirmed attendees.
Graduate Apparel
Graduates may purchase their required apparel (gowns, caps, and tassels) online through the NRCC Bookstore. These items should be ordered as soon as possible to ensure delivery prior to the ceremonies.
Graduation Application Procedures
The application for graduation is required to be completed and submitted to the Admissions and Records Office at admissions@nr.edu. Students completing course requirements in spring and summer 2021, must submit their application no later than Friday, April 30, 2021, to participate in a graduation ceremony and to have their names included in the graduation program.
All degrees, diplomas, and certificates will be mailed to spring graduates in mid-June, and to summer graduates in August.
Graduation Requirements
All graduates must have a GPA of 2.00 in all studies attempted which are applicable toward graduation.
In awarding students an additional degree, diploma, certificate, or career studies certificate, the college may grant credit for all completed applicable courses which are requirements of the additional degree, diploma, certificate, or career studies certificate. However, the awards must differ from one another by at least 25% of the credits.
Course substitutions cannot exceed 10% of the total credits of the program.
At least 25% of the credits must be acquired at the college awarding the degree.
Graduates are eligible for honors (with the exception of career studies certificates) if their cumulative GPA is:
3.200-3.499 Cum Laude.
3.500-3.799 Magna Cum Laude.
3.800-4.000 Summa Cum Laude.